---
Tales, part 1
Tales, part 3
Tales about the site
---
Tales, Part Two
I sat on Willard / Bozo's lap back in the early 60's on TV. I remember the show very well. I have fond memories of Willard as the weatherman on TV 4... I grew up on Maple St. in Alexandria, right around the corner from Willard who was on Commonwealth Avenue. Willard was a big part of my childhood growing up in Alexandria, and I would love to see him again after all of these years. - Charles C. Walker III (Martinsburg, WV)
---
I have several Joy Boys skits on tape, probably from 1960, recorded off WRC-FM on my 1958 Sylvania home recorder at 7.5 ips. Glad to do my part to keep the Joy Boys alive. Walker and Scott don't know it, but they really were a formative part of my education and experience. I can still recall going down to 4001 Nebraska Avenue for a couple of the New Year's eve shows. Nothing like a nerdy Sherwood High School kid spending New Years with radio guys! - Bob Knowles (Huntsville, AL)
---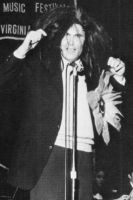 Here's a pic from www.norvapics.com. I happened to have been in the Falls Church High School Band 75-77 and was there that evening. He was awesome. Willard was the hottest ticket in town.
My dad, Tom Wright, actually did an afternoon radio show for WEEL in the late 60's that was broadcast afternoons from Fishers Hardware in Springfield. - Mike Wright (Falls Church, VA)

---
In the late '80s when Ed Walker hosted the morning show with Bruce Allan on WRC, he would talk about the Joy Boys show with Willard Scott. He shared some of the things they did over the years and consequently I grew to enjoy it. That's how I first came to know of the Joy Boys. Whenever I was feeling down, I could always count on Ed Walker's wit and style to cheer me up. Thanks for the information about Crabs for Christmas, and I will get my order off to you soon. - William Saunders (a Baltimore Benny fan)
---
Willard, do you still sell eggs from your farm? I worked with you at WRC radio in 1978-79 when it was news/talk... I was a fledgeling sales person, didn't know much about selling airtime but with you I didn't need to. I just sold sponsorships of your weather report and I had a long term contract that was easy to renew! My dad who had been a car dealer said the funniest guy he had ever met was Willard Scott. When we would take clients out to dinner between shows I knew what he meant. It was pretty heady stuff for a local boy like me. I was impressed that you were the same guy with the parking lot guard as you were with management. I have always been a big fan of yours. I just heard about your new book and can't wait to get a copy and read it. - Jerry Cave (Cabin John, MD)
---
I received the 10 CDs... I'm savoring each one and trying to listen to only one 25-minute show at a time. As soon as I get through all ten, I'll get back to you for the next installment. Listening to the Joy Boys on these CDs is like climbing into a time machine. The news flash when Johnson was selected as the VP candidate, cantaloupes for 25 cents apiece, a new Dodge Dart for $1,600. Amazing. And the act is as funny now as it was then. - Wes McAuley (Maxwell AFB, Alabama)
---
I guess you would say I'm a "celebrity fan." I of course knew Willard and Ed while they were The Joy Boys. I actually remember when Willard when he was Bozo and Ronald McDonald here in the Washington DC area. Now that goes way back.
I met Ed Walker when he was a guest speaker at the Immigration and Naturalization Servce back in 1998. You can see the photos here. By the way, Ed and Willard had great things to say about you and the web site. Ed gave it a BIG plug. - Bruce (AKA Big Bruno)
Big Bruno provided these photos of Ed and Willard, taken recently at the Smithsonian during Willard's book signing.
---
I was a great fan of the Joy Boys back in my high school days and for a period after graduation in 1961. A number of times I (and two close high school friends) took the bus from Annandale to WRC's studios, and sat in the studio while Ed and Willard did their show. THAT was terrific fun!!! We also stayed up all night for a number of the New Year's Eve shows.
I have about a dozen reel-to-reel tapes that include many bits taken from their weekday afternoon shows, all probably recorded from 1959 into the early 1960s. Would these be of interest to you? - Jim Warrick (Burke, VA)
Jim, absolutely yes! Thank you. We'll handle these with care and transfer them to CD for our Joy Boys sound library. Visitors should check our Audio page for updates! -BB
Post script: After converting his tapes to CDs and returning them, we received this note from Jim: I am having more fun listening to this stuff than a human being ought to be allowed to have. I'm still not through it all. The scary part is I remember so much of this stuff! Those guys sure broke each other up a lot in the early years. Many thanks!
---
"NIH" might refer to the National Institutes of Health, right up Wisconsin Avenue from WRC at Tenley Circle... rhesus monkeys used for research might have been expected to listen to "Night Watch" after work, locked in their cages... or not-so-locked! Just a theory. - Wendell S. Hall Jr. (Washington, DC)
Wendell, thanks! Anyone who hasn't already seen the NIH monkeys can visit the Joy Boys coloring book portion of our site. -BB
---
Can't figure out how I stumbled across your Joy Boys site, and I haven't heard 'em since '65, when my family moved from DC to Pittsburgh... and now the theme song is going to be running through my head for the rest of the day. I don't think I thank you... but I will return to the site! - Lisa Salkovitz Kohn (Chicago, IL)
---
Just wanted to say thank you for this fun site. I was born in DC and grew-up in Hyattsville, Maryland. Your site brings back many fond memories. Willard and Ed brought many laughs to our house, and your site helps bring to me the things I miss in Florida. - Kitty (somewhere in FL)
---
When in Northwood high school in Silver Spring, we asked Ed and Willard to do a promo for our annual school show. They were kind enough to do two or three spots for us to air on our morning PA announcements. Later, I went to American University mainly because that was where Ed and Willard went. I was there when the original WAMU-FM transmitter was delivered. I worked both on the AM student station and then for the FM station when it began.
Some time later I was highly complimented when Willard mentioned during a fundraiser that he liked the program I did on Saturday evening. I moved over into the fundraising function for WAMU-FM and learned how to record the donations on punch-cards for the computer, and learned computing at American University. - David Eccleston (Fort Lauderdale, FL)
---
As a high school kid, just getting interested in a career in radio, I called Ed and Willard up one day and asked if I could watch them work. They agreed much to my amazement and so my father drove me to WRC one night and I sat in. To sit on the sofa in that big old studio and watch these two geniuses work was the thrill of a lifetime. I have remembered that to this day and whenever a young person wants to come to the station and watch me work -- I absolutely let them. I am returning the favor.
Later, I was even more honored to have worked at WMAL at a time when Eddie was doing weekends. I was at WMAL from 1974 to 1976... that's when Harden & Weaver, Tom Gauger, Bill Trumbull, Felix Grant and Bill Mayhugh were there. On the weekends I would sometimes follow another WRC hero of mine, Mac McGarry.
The Joy Boys were among the funniest, most entertaining people I've ever heard on the radio. Both were consummate professionals, terrific role models and down-to-earth, wonderful guys. Thanks for honoring them with all your hard work! - Mike Collins (WFAE-FM, Charlotte, NC)
---
Just stumbled upon the Joy Boys' website. Fantastic! This show bridged the gap between my Dad (who worked at the Pentagon) and myself, a hopeful future Jim Morrison/Elvis rock star. (I wound up in radio.) Dad roared with laughter at the theme music, expecially the closing theme. He would often help Mom with the dishes and prop a radio in the window, listening to Willard and Ed.
Willard is truly one of my heroes. Willard was my Bozo as a child, a pop DJ in my teens, and of course, the weather man for WRC TV. Ah, such memories. I had always wanted to be on the Bozo show and met Willard, eh, Bozo at the grand openings of several McDonald's restaurants, where my Dad faithfully took me. I DID finally appear on the Cousin Cupcake Saturday WRC show with Pop, who won a cupcake eating contest on the air. To paraphrase Bob Hope, "Thanks for the memories." I shall visit the website often. - John Roebuck (Garner, NC)
---
I just turned 50, and was born and raised in Alexandria. Our family listened to the Joy Boys every evening for years. I have great memories of that old show. I can still hear, in my mind's ear, my Dad laughing at some of the skits. - Bob Horuff (Houston, TX)
---
I grew up in Prince Georges County, MD and listened to the Joy Boys from about 1959 on. In college (U of MD) I would occasionally take a friend and we'd go down to 4001 Nebraska Avenue, show up in their studio and watch 'em work. I even once went down to their "New Year's Eve Free-for-All." I saw Willard here in Montgomery in about 1997 - he was the featured speaker at some fund raiser and I gave him a tape of Joy Boys stuff from the '60s. I was shocked when I went to shake hands with him and he said, "Don't I know you?" He told me that no matter where he goes in the country, seems like there's always at least one old time Joy Boys fan who comes up to greet him. - Wes McAuley (Maxwell AFB, Alabama)
---
I worked in the DC area from 1948 to 1979, for the Navy, Army, and the FCC. Lived in Clarendon, Silver Spring and Hyattsville. I listened to the Joy Boys while driving home from work. I particularly recall their takeoff on "Gunsmoke," which is not to say I didn't laugh myself silly over a great many of their routines. My son remembers listening to the Joy Boys in the evening (when he was supposed to be asleep!). Thank you for your work in preserving the wonderful antics of the Joy Boys. - Joan Baxter (Chapel Hill, NC)
Joan contributed a number of photos and news clippings, which you can see on our Pictures page. She also contributed the Bryson Rash recording found on #JB123. The Joy Boys' version of "Gunsmoke" was called the Sodbuster and you can find several of these skits on our ALLCLIPS page. -BB
---
I got my Joy Boys CDs (#302-303) the other day. You GOTTA start putting a medical disclosure statement on these things. I have almost broken a number of ribs laughing. The sad thing is, I can listen to the same bit several times and find something new to laugh at! Thanks for all your hard work. These CDs really bring back some memories. They were funny then - they are funnier now. - John Abbott (Wheaton, MD)
John especially enjoyed the WWPU bits, so we've added some to the ALLCLIPS page this month. A WWPU skit also found its way onto Paul Shanklin's political-satire CD, The Usual Suspects. -BB
---
I moved to Washington in 1969 to work at WTOP. That's when I first heard of the Joy Boys, and I tried never to miss a show. I later joined the Mutual Broadcasting System. One of our affiliates (WAVA) had a sportscaster named Nat Allbright, who spoke with a heavy nasal sound. So Ed Walker did a character who he named Not Allbright, capturing that nasal sound perfectly! It was one of the funniest bits I ever heard Ed do. I will never forget the fond memories of Willard and Ed as the Joy Boys. - Tom Woods (still announcing and going strong at 64)
I remember Nat (and Not) Allbright, and his favorite on-air expression: FAN-tastic! Nat was written up in the Washington Times newspaper just last week. -BB
---
I was a student at American University, 1967-1971. During the 70-71 semester I got a part-time job at WRC with the Joy Boys, earning $20 a week to pull their records and type up their music list every day. One evening Ed and Willard were doing a commercial for Lysol spray. After the commercial, Willy said something like, "Lysol spray. Great stuff. I always keep my can in the car." To which Ed deadpanned, "Fasten your seat belt." (OK, you had to be there, but it was hysterical at the time.) I laughed until I cried, and when I looked at the car next to me, the driver was obviously listening as well, because HE was laughing hysterically.
In the winter of 1970 another AU student named Jack Thornton worked at the campus computer lab, and collected two large shopping bags full of computer punch-outs. On Christmas eve, the producer of the WRC evening news let him get up on a ladder behind the weather set where Willard did his thing. (No matter what the forecast, Willy always predicted snow on Christmas.) Just as he's doing so, Jack dumps both bags of computer confetti on Willy's head. The stuff is filled with static electricity, so it sticks pretty good, and Willy, on the air, rips off his hairpiece and shakes it out. News anchor Glenn Rinker almost had a heart attack laughing.
What you saw was what you got with Ed and Willard. It was a great time for me. I love 'em both! Thanks for this opportunity to share some memories. - Steve Dawson (San Ramon, CA)
---
My father has listened to the Big Broadcast for as long as I can remember. As I grew up he listened to WMAL all day everyday. These two experiences have colored my life. Being thirty years old, I don't quite qualify as a Joy Boys fan (at least not an original one), but the Big Broadcast brings me hours of pleasure and bantering with my father and mother. I have heard Crabs for Christmas many times, and now that I live outside of Baltimore, the song means something to me. In fact, it inspired my winter concert this year - "Food and Fun For the Holidays." Now I can share this song with my fourth and fifth grade chorus students, and make this a part of their memory as well. - Elizabeth Aldridge (Baltimore, MD)
---
Long ago, in 1966 and '67 my Mother and I would spend one or two Friday nights a month in the studio on that old ratty couch, watching and listening. The off-air stories were just as much fun as Rita Rosa getting stuck in the pit! My Mom always baked them cookies for each visit... I think that's the only reason they let us keep coming back. Those were wonderful days with many fond memories. - Patrick Gossett (suburban MD)
---
THANK YOU for the Joy Boys pages! I was advertising and promotion manager at WRC Radio from 1964 to 1971 and did a lot of fun stuff with Eddie and Willard. I think the wackiest was the trip for two around the Beltway which had just opened. I'll never forget first hearing "Flowers on the Wall" by the Statler Brothers in the music library with Eddie. We were absolutely enchanted and knew this one was going places. During one NABET [engineer's union] strike, my assistant and I were the JOY GIRLS on-air. When the strike was over, we played "Walk Right In, Sit Right Down" over and over until they did. Those were incredibly fun years. I moved to the NBC Radio Network in NY in 1971 and never had so much fun in NY, I'll tell you. Somewhere I have the Joy Boys coloring book we did which drove NBC corporate nuts! - Timmi Pierce (New York, NY)
---
I was at WTOP during the 60s and became a good friend of Willard and Eddie. At one time I directed a morning show "Cadence" with Lee Shephard as host, and many times Eddie and Willard were guests. I sometimes would go over and sit in with them during the Joy Boys show in the evening.
There was an engineer, Arthur Semmig, who would put together sound effects and crazy audio-sketches at his little home studio before he came in to work the Joy Boys in the evening. Arthur had a tape of Colonel Sanders (KFC), and on occasion Arthur would play parts of the tape as a reaction to what was on the air at the time.
In those days Willard was the announcer for the NBC Radio News intros. One night there was a local Ford dealer spot which ended with a sexy female voice, saying "and tell them I sent you." The engineer (Arthur) was then supposed to open Willard's mike for the NBC Network Radio News intro -- instead he opened a switch where the Colonel's tape was still running, and (heard only locally following the sexy voice) was: "And it's finger-lickin' good, folks!"
Now Willard was trying to introduce the news and he was laughing like you have never heard him laugh. Then newsman Dave Rush begins to laugh, because he also heard the local audio. If you were anywhere else in the country listening to NBC news, you hadn't heard the local spot or the Colonel, all you heard was Willard and Dave laughing almost out-of-control. They never did regain any composure. It was the funniest newscast I had ever heard...
Those days were the best and will long be remembered by everyone who was able to share their "joy" in Washington. - Woody Robertson (Southfield, MI)
You can read more about engineer Art Semmig in this story. - BB
---
I lived in Silver Spring MD until 1968, and remember the Joy Boys with a lot of affection... What I remember of old radio is mainly Washington Senators baseball, the Joy Boys, and "the man who owns Midnight, Steve Allison," who did a live phone-in show from a nightclub table in downtown DC. I later did radio in Washington, Frederick, and got my start at WMUC (U of MD).
I also have the distinction of having been t-boned in my little Fiat by Jackson Weaver in his Cadillac. I'll never forget the look on his face when I pulled out in front of him. Here's this giant Cadillac bearing down on me, and all I can think of is, "My God! It's Jackson Weaver!" - Doug Ramsdell (New York, NY)
---
Thanks for having the Dick Herriman Ford commercial on your site. My grandfather is Dick Herriman and it brought me great joy to hear the ad. - Erin Stocking
---
I came across the Joy Boys in the 70's while in the Marine Corps. I was at Henderson Hall and later had a friend who lived in Fairfax. His parents used to make cassette tapes of shows and send them to us. I listened to them all the way into the late 1980's, especially while serving in Japan. They basically wore out, I had them on C120 cassettes. My last assignment was at the Pentagon where I retired after 30 years in 1998. I now live in southern Maryland, and if I turn my radio just right on Sunday night I can pick up the "Big Broadcast." I've listened to that since we moved in the area in 1994. Thanks again, and tell Ed to keep up the good work. There may still be Marines listening to him somewhere around the world. Semper Fi! - MGySgt Jerry J. Gooch USMC(ret) (Great Mills, MD)
---
I've been enjoying the web site and the CDs that you've made from old Joy Boys tapes. I was Ed Walker's last regular board operator at WRC in the Greater Media days and had, of course, known him (and Willard) when we both worked for NBC. I have some Joy Boys material that you would probably be interested in:
A pre-recorded Joy Boys program from 1970 that was to be used in the event of a bomb scare at NBC.
The complete "Masterpuss Theatre" production of "The Six Wives of Henry VIII" which aired originally on WRC circa 1972 in place of "As the Worm Turns".
An appearance on "The Betty Groebli Show" on WRC radio sometime in the late '60's or early 70's. This is an interview show she did with newsmakers and the like. This show even has a recording Ed made when he was 8 years old.
Another interview show on WWDC, "Empathy" with Fred Fiske. They appeared on this program after leaving WRC and starting at WWDC.
I also have the 1990 program they did with Johnny Holliday on WMAL off of a direct line in the WRC production studio. - Dave Howell (Annandale VA)

Dave, thanks so much! I've been hoping for some tapes from this era. These will be a welcome addition to the site. All of your tapes are now in our audio section. -BB
---
When I was at Syracuse University, locals from the DC/Baltimore area would talk about the Joy Boys show. I came to Washington in the late 1970s to work for National Public Radio in their documentary and special productions unit. When I got to DC, everyone remembered the Joy Boys. Thanks for the web site and collection. - John O'Rourke (Arlington VA)
---
The Joy Boys was my mother's favorite radio show when we lived in Prince Georges County, Maryland during the 1960's and 70's (I've just aged myself, haven't I?). I would love to give her a collection of The Joy Boys as a gift. Please send ordering information at your earliest convenience. - Alice P.K. Peach (Virginia Beach, VA)
To prevent the "web robots" from picking it up, I don't publish my mailing address here. But anyone who needs any sort of ordering information is invited to email me. -BB
---
I enjoyed listening to one of your Joy Boys CDs while driving in western Nebraska, and look forward to hearing more. Thanks! - John Thompson (Chevy Chase, MD)
John was listening to Remember The Joy Boys, Volume Two which he had ordered from WAMU. He was also writing to redeem his free CD, which is available to anyone ordering Volume Two. -BB
---
My first (and previously only) exposure to The Joy Boys was on a compilation reel of old radio comedy bits... it was at the end of the reel that I first learned of The Joy Boys, when the theme played, then... on came Willard saying "this program originated from the stone house on Tinley Square in Rock Creek Park, USA!" Then we hear:
Ed (over closing theme): "Well, we've just about boiled another one to death so let's turn off the burner...get well, Ray Michaels!"

Willard: "Yes - Get Ray Michaels!!"

Ed: "No, get him well."

Willard: "Oh."
So, naturally, the discovery of the website - and the audio samples - was an unexpected delight. (I now believe that "Charles" trying to recite a ballad with a mad cat loose in the studio is the funniest thing I've ever heard!) At the moment, I'm listening to Robin Hood of Rock Creek Park making toll house cookies. Ed may think they're silly, and Willard may say they're a poor man's Bob & Ray, but these bits are hysterical. Radio needs less corporate interference and more creative stuff like The Joy Boys...in my humble opinion.) - Lee Michael (Tri-Cities, WA)

Lee contributed this clip (MP3 file, 131K) and other material to our CD #JB126.
---
I grew up in the DC area as a huge Joy Boys fan - one of the tasks my brother and I always squabbled over was who had to turn the radio off before we went to sleep (neither of us wanted to). One of my favorite Joy boys memories comes from the spring of 1965. The beltway was just being completed, and the Joy Boys one night on a lark started a contest. Finish the sentence "I like to listen to the Joy Boys because..." in 25 words or less and they'd drive the winner around all 66 miles of the beltway.
The thing got completely out of hand: the ride became a chauffeured stretch limo, and it came with an overnight stay at a nice hotel, dinner for the winner and a guest in advance of the trip, ten gallons of paint... I sent in a postcard with "...they're funnier than the Washington Senators," who were about as sad an excuse for a major league baseball team as a city ever suffered with. (I didn't win, of course.) They were overwhelmed with responses, and it seemed like Ed and Willard milked the contest for weeks. The contest was such an inspiration that a buddy and I decided to drive all the way around the beltway in June, after our high school graduation. Made the trip from 1 to 3 AM, after the parties, and ran out of gas on the way home. That's still one of my favorite memories from high school. - Steve Fox (Bethesda, MD)
---
Your site is great! I have been fans of both Ed and Willard since I discovered them while living in College Park Maryland from 1962 - 1965. I was hoping someone had some tapes or CDs. Somewhere in my diary material, I have a written account of a December 1970 version of "Aunt Harriett's Story Time." I don't remember what the story was about but I do remember that the sponsor was "Hoo Hah Bubble Gum." If I can find that written account, I'll send it along. Thanks again for a great site and for any help you can provide on my obtaining the two "Remember the Joy Boys" CDs. - Walter Carl Case (Orlando, FL)
Walter, thanks for writing! Since WAMU's pledge drive is over, we are now supplying the "Remember" CDs directly. Other readers can contact us for ordering information. Anyone interested in Aunt Harriett's Storytime can listen to one of her stories right here. This clip is from our CD #JB222. -BB
---

WOW! Bob... your CD's arrived and I've been howling ever since! Thank you... thank you for including me on the three tracks of the second CD. I had no idea that anyone had any tape of Ed & me. I wish I could unearth some more somewhere because those bits with Ed were the most hilarious moments I ever had in front of a microphone. I'm STILL laughing! I can't believe the chaos and the fact that the bits sounded exactly as I'd hope they would. We had to really talk the engineers into allowing stuff to just flow... and to keep the music up hot. I told Janet Wessells, Gail "Bubblepot" Grenata and anyone else engineering that the idea was not "voice over," but "voice within." They all were accustomed to yanking down the pots to some arbitrary point on the front of the console, instead of listening to the way it sounded. Many, MANY thanks for all you've done for me. - Tom Gauger, WMAL Radio
Tom, you're more than welcome. Those bits with Ed Walker and Tom Gauger are on our CD #JB117 , new this month in our Audio collection. And read more from Tom Gauger as he tells his stories of the Joy Boys.
---

I was a summer relief announcer at WRC in 1959. Often, I was assigned to do station breaks in the Joy Boys' shows. Having finished a freshman year at Harvard, Willard would say -- in a stilted British accent -- "stay tuned now for a station break starring Hinshaw of Harvard." It was a summer of great laughs with them, Mark Russell and Jim Henson and his real and invented gang around much of the time. After the summer at WRC, I returned to my Minneapolis home (Harvard had asked me to spend some time thinking about my academic performance -- which had suffered principally because of a much too deep involvement with the Harvard radio station, WHRB). I spent five years with KSTP radio and TV, returned to DC for a couple of years with the Voice of America, then settled in Milwaukee.
Unfortunately, I have no tapes or pictures of the Joy Boys, but there are a lot of memories. I remember an American Airlines commercial during which Ed's falsetto stewardess said, "Coffee, tea or me." It led to a cancellation of the American schedule in their show -- followed a day or two later with a quadrupled American order because of the size of the audience reaction.
Thanks above all else, for archiving many of the funniest moments in American radio. It sure was terrific stuff. - Ed Hinshaw
---
I came from Connecticut and never heard The Joy Boys till I moved here in 1980. What amazes me is their chemistry, wit, and the fact that they prove radio can be entertaining and funny without resorting to four-letter words, vulgarity and the like. It seems to me that today's so-called personalities don't begin to measure up to the likes of Ed and Willard, Harden and Weaver, Trumbull and Core, and the patron saints of nuttiness, Bob and Ray. The current crop can't compete with the talents and abilities of the aforementioned... I suspect I wouldn't want to drive the Beltway while listening to The Joy Boys... too many people laughing instead of concentrating. Count me among 'em. - Just Plain Bob (Robert Paine - Any similarity between the signature and the radio serial Just Plain Bill is purely intentional.)
---
We were all big Joys Boys fans back in the mid sixties. Several times my friend Dave Miller and I went up to WRC to watch Willard and Ed do the show live. We sat in the studio and laughed our heads off. They were almost funnier when the mikes were off. It was hysterial -- and it was a thrill for a couple of college kids to sit there and take it all in. Later, one of our friends at George Washington University, Mike Berry, became their engineer. - Marc Leepson (Middleburg, Virginia)
---
I grew up in Bowie, MD in the 60's and early 70's and as a little kid loved to hear the Joy Boys as I rode in the car with my dad. For some reason I remember listening to them the most when we would drive from Bowie, to the "Two Guys" near Glen Burnie. I've always loved 60's and 70's AM radio. The Joy Boys, Baltimore Orioles Baseball, Pep Boys commercials, and CBS Radio Mystery Theater. I always remembered the theme song, and just wanted to hear them again. The web made it much easier. Thanks! - Marty Wilson (Marietta, GA)
---
Early childhood memories are often very fuzzy with some notable moments standing out. There are two pleasant memories from the early 60's that I frequently recall (my family came to the Washington area in 1962 when I was four). The first is playing in the bathtub, dragging a washcloth through the water pretending it was a fish, and while humming "We are the Joy Boys of radio..." My father was a big fan, and while I was too young to appreciate them then, over the years I grew to.
The second, today would be called 'quality time', but then it was just a spur-of-the-moment occurrence that I look back on as having been great fun. The Eddie Leonard's jingle came on the radio and my father did not like that jingle. He jokingly made a big deal of how much he hated it and covered his ears so he wouldn't have to hear it. He told me (about 5 at the time) to tell him when it was over so he could uncover his ears. My mother tried to convince me to tell him it was over before it ended to trick him. A moment of uncertainty on my part (which parent should I be loyal to), followed by lots of giggling and laughing from all of us. The whole thing couldn't have lasted more than a few seconds but after almost 40 years it still stands out vividly in my mind. I don't often ask for favors, especially from strangers, but if you have a clip of the Eddie Leonard jingle online could you please sent it to me? I'd truly love to hear it again. - Richard Stanley (Rockville, MD)
Richard, thanks for writing. Here's the famous Eddie Leonard jingle from 1966. It's from our CD #JB115. Enjoy! -BB
---
I grew up in Washington and Willard Scott was sort of a hero to me. I went to work for a hospital where we needed to hire nurses. It took me a couple of weeks, but I convinced the "powers" to get some money together to have Mr. Scott do a radio recruitment commercial for us. We got the bill, sent the money in, and he sent it back, saying he hoped all of our efforts worked, and that nursing and health care were emportant to our community.
This had to be back in 1973 or 1974. We were ALL amazed at the generosity and sent a "company" thank you. I for one have never forgotten it and it's sort of been a basis for MY giving what I can. Although we sent the company thank you, "I" have never said thank you. Would like to get an e-mail address to send my thanks, or maybe you can just forward this along. I'll also never forget the "Joy Boys" and the time they showed up for the annual banquet of the Wheaton Rescue Squad. As always, made the whole evening for everybody in attendance. - James Trygstad (Pompano Beach, FL)
---
I knew Willard as a weatherman, Ronald McDonald, Bozo the Clown. I heard Ed for the first time on WMAL from 2 - 3. One night I saw Ed Walker at the Hexagon Show... couldn't forget the joke about how bad the Redskins were doing that year. "The team was sold to someone in the Phillipines, and it's going to be renamed to... the MANILA FOLDERS." What else can I say? - Bob Walsh (born in DC, now living in Colorado)
---
I just got the chance to listen to the CD [#JB115], and it brought tears to my eyes several times. The Joy Boys were fun to listen to when my father and I were on our way back from the studio at the end of a day. Your CD sparked a memory which I will share. I am a fan of Sousa marches, which is not particularly unusual, but I remember why.
I used to listen to Dad reviewing new releases of marches for Sousa, although at the time I did not realize what he was looking for. So I associated good times listening to stirring music with my father, but for no particular purpose. I recall one evening going home, we tuned to the Joy Boys, and I heard them play a new rendition of their theme -- and I realized that it was the same version I had heard Dad playing some short time before. He explained that it was the same version, and that he liked to find new versions of the Sousa march and send it to Ed and Willard for their use. All that time, he had been enjoying Sousa, but had also been finding variations on the theme for the Joy Boys. I remember thinking how influential my Dad must be that he could get the Joy Boys to play music he found. I wasn't the brightest kid at times, but it is a fond memory nonetheless. - Park Temple [Pick Temple's son]
Click here to read more about Pick Temple and the Joy Boys. -BB
---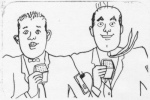 I have a Joy Boys Fan Club card from the WRC days. I haven't seen this on the site and don't have any idea of how many are still around.

I listened to The Joy Boys from the early '60's until they left WWDC and continue to listen to Ed Walker on WAMU's Big Broadcast. Thanks for perpetuating a class act. - Howard Reynolds (Bittinger, MD) (way out west in Garrett County)

Howard, thanks much. After seeing this, I'm thinking "oh yeah, I used to have one of those also!" But mine is long gone. I'm glad you saved yours all these years. -BB
---

In Rex Stout's first Nero Wolfe mystery, Fer-De-Lance, written in 1934, he talks about Wolfe listening to the Joy Boys on the radio. Wolfe's assistant, Archie, usually went for a walk during the show because "the Joy Boys seem to me pretty damn vulgar." Can you explain this? - Jack Fischer

Since Ed and Willard were each born around that year, it wasn't this show. I know several bands used the name Joy Boys around the '20s and '30s: Blanche Calloway and her Joy Boys, Fess Williams and his Joy Boys, Anton Barbeau and the Joy Boys. (See the photos for two of those recordings.) Maybe one of these bands had a radio show in 1934. Can anyone tell us the rest of this story? -BB

---
When I was in college at Ohio Wesleyan University in the 50's, a group from Yale University I believe came to the campus for a concert. They stayed at the Beta House where I was a member, and late in the evening after the concert they entertained us with the Joy Boys theme, "We are the Joy Boys of Radio, Hello, hello, hello," after which they would tell an end-man type joke and then go into another chorus of the theme. Forbidden beer helped the process along for a good while, and we had a blast that night. - Charles P. Woods
---
You really are doing an *amazing* job of preserving this wonderful portion of radio history, which otherwise likely would have been mostly lost. - Eli Rosenbaum, McLean VA (transplanted New Yorker)
Eli sent us several Joy Boys audio clips which we'll feature on this web site soon. -BB
---
I am a Washington native born in 1955 and I remember always listening to the Joy Boys. As a matter of fact a friend of mine, Charles Tompkins, liked the show so much that he and his cousin purchased a reel-to-reel tape recorder to perform their own Joy Boys radio show. Their parody, and the real Joy Boys, continue to make me chuckle. My teen age son, Darryl, never understood how funny a radio team that used a skillful blend of intelligence, satire, and silliness, with never a four letter word, could compete with radio today; that is until I took him to this site and let him listen to these classic bits. Then I saw the light bulb go off above his head and we both laughed out loud and sighed lamenting that this type of humor is only a memory... All our best to Ed Walker and Willard Scott, the Joy Boys, and Great Gentlemen, of Washington Radio!!! - Bob and Darryl Flood (Allen, TX)
Tales, part 1
Tales, part 3
Tales about the site
---
Home | History | Audio | Pictures | Tales | Links | Contact Us