---
Pick Temple visits the Joy Boys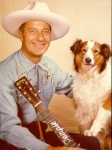 Pick Temple was a folk singer and host of several popular TV shows for children. During various years the show aired on channels 5, 7, and 9 in the Washington DC area.
On April 30 1967, Pick visited the Joy Boys in their WRC studio. This was the 67th anniversary of railroad engineer Casey Jones' famous last ride, as he "took his farewell trip into the Promised Land." The entire 25-minute show was devoted to this subject, as Ed, Willard, and Pick Temple talked about Casey Jones and played recordings from years earlier.
This clip (MP3 file, 321K) introduces the show, and explains how "Casey" got his name. This is from our CD #JB115, which includes the complete Joy Boys show from that evening.
During other parts of the show, you can hear recordings of Casey's custom-made train whistle, and also the voice of Sim Webb, Casey Jones' fireman, who was on the train that evening in 1900 but jumped to safety while Casey rode it to the end.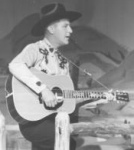 Here is a sound clip from near the end of the show, with Pick Temple singing the Casey Jones song (MP3 file, 409K).

(Photos courtesy of the Kaptain Kidshow web site, which also features many other DC-area TV shows. Please visit their Pick Temple tribute and other pages.)
---
Home | History | Audio | Pictures | Tales | Links | Contact Us