---
Tales, part 1
Tales, part 2
Tales, part 3
About the site
The Joy Boys website was developed by Bob Bybee in 2001. Bob contacted Ed Walker to get permission (and also a few tapes). Shortly after the site went online, other fans contributed pictures, stories, and dozens of their own tapes. You are seeing the end result of all of those events.

The version you are viewing today is hosted by the Metropolitan Washington Old-Time Radio Club, as part of their main site www.mwotrc.com.
About the webmaster
I was born in 1955, the year the Joy Boys started on WRC, and I left the Washington area permanently in 1973, shortly after their show on WRC ended. Coincidence? Perhaps, but it's no coincidence that my parents and I spent many happy hours listening to the show and visiting the studio. Ed, Willard, Will Heagy, and Mike Berry were the most generous of hosts. I was occasionally invited to kick the sound-effects trash can or ring the NBC chimes. And I was on the receiving end of a few birthday announcements during my teenage years.

My father's background in electronics, plus the kindness and inspiration of the Joy Boys cast and crew, propelled me into an enjoyable first career in radio. I was an announcer and/or engineer at seven radio stations in Virginia plus one in Atlanta. I finally moved into the computer field, as so many other electronics folks did, but radio still has a special place in my heart.
A short photo history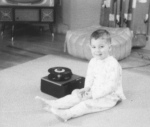 Here's your webmaster at about age two, in his first DJ position. I'm told that I worked this record player so hard, it had to be repaired. (And also wore out a few records.)


Fifteen years later, I had accumulated enough equipment to do some reasonable recording and mixing. My friend Stefan Dobrowolski, shown here at the controls, worked with me to produce a music show which "aired" over the Washington-Lee High School P.A. system every morning before class. We used one turntable and two reel-to-reel recorders, one of which was given to me by Ed Walker.

For more about me, you can visit www.facebook.com/robert.bybee
-- Bob Bybee, webmaster of thejoyboys.com
Tales, part 1
Tales, part 2
Tales, part 3
---
Home | History | Audio | Pictures | Tales | Links | Contact Us