Welcome to MWOTRC!
---
Upcoming Meetings:
The March meeting will be by Jeffrey King, and his sister Sherry, who will present radio work ("Margo of Castlewood") and novel/movie work of their father, Sherwood King, who wrote the novel If I Die Before I Wake. This book was made into the famous Orson Welles' movie "The Lady From Shanghai". They may even be able to share some rare radio clips with the club as well!
The April meeting will be by Elliot Vittes who will present a talk on his father's (Louis Vittes) radio and TV work as a script author. His father's work includes episodes of "Two on a Clue," "The Man from Homicide" and "Call the Police." Club members and radio historians Jack French and Karl Schadow have even written about Mr. Vittes' works!
---
Meeting schedule: Regular meetings are held at Trinity Episcopal Church, Columbia Pike and Wayne Street, Arlington VA.(Please see map below.)
We meet at 7:30 PM on the second Friday evening of every month, except June and December, when we meet Saturday noon at a local restaurant (location TBA). In September, we hold our meeting at the Mid Atlantic Nostalgia Convention (MANC) in Hunt Valley, Md. See our Links page for MANC details.
If you live in the Washington DC area or are planning a visit, why not attend one of our meetings? Members, guests, and the general public are invited to all meetings, which include various demonstrations and presentations.
Please browse through our site to learn more about us, or contact us for more information.
Click the map below for a Google map and directions.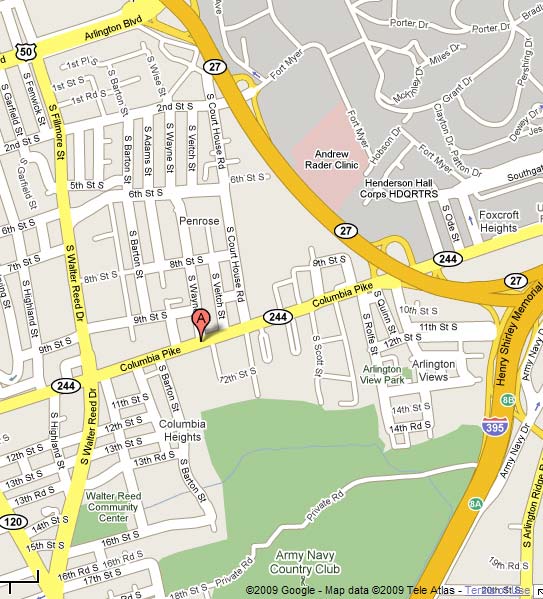 BE SURE TO VISIT OUR LINKS Page from time to time.You'll find interesting web sites like this one, Old Time Radio Themes - a great resource for the music themes of those old favorite shows.
See our News Archives at:
News from 2014
News from 2009-12
News from 2006-7
News from 2005
News from 2004
News from 2003-2002