---
Ed Walker and Willard Scott - Night Watch
Hectic and happy and the supreme in variety, the Joy Boys, Ed Walker and Willard Scott, take over the "Night Watch" each weeknight from 8:00 until midnight with relentless mirth and merriment. Character after character unfolds in an audio panorama of satirical skits and custom made commercials. "Night Watch" combines the flavor of old-time radio with modern topicality and better music and has the added attraction of being broadcast in "living color" each Friday night.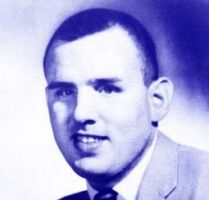 Ed Walker and Willard Scott are a unique team that started broadcasting together over WAMU while both were undergraduates at American University. Following graduation, "The Joy Boys" held forth over another local station and in a year had become the talk of the town. Before coming to WRC, their individual part-time duties included WINX, WPIK, WOL, WITH and WCBM in Baltimore and WAVY in Norfolk for Willard and WOL and WPGC for Ed. When Willard moved to WRC, Ed followed suit.

Together they did "Two At One" for WRC which Dave Reque, columnist for the Daily News, reported as being "as funny a local radio show as I've ever heard... a half hour of gags, mimicry, satire, strange noises and music." Eventually Uncle Sam beckoned Willard away for service. Upon his return, "The Joy Boys" were reinstated in the WRC program format which drew from Larry Laurent, columnist for the Washington Post, the unqualified statement that this was "the funniest pair in all of radio."
With music for everyone and the best in humor, Ed Walker and Willard Scott have captured the imagination and the heart of the Washington night time audience.
To read more about the Joy Boys, Walker and Scott, or the other announcers who shared WRC's airwaves in the early 1960s, click on any of the links below.)

---
Home | History | Audio | Pictures | Tales | Links | Contact Us