---
The WAVY Nifty Fifty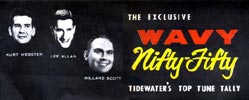 Not even a hitch in the Navy could keep a good broadcaster down! In 1956 Willard Scott took a break from the Joy Boys, joined the Navy, and was stationed near Norfolk VA. But he also found time to moonlight at local radio station WAVY.
Here is the "exclusive WAVY Nifty Fifty" playlist, Tidewater's Top Tune Tally, from May 19, 1958. Willard's picture is at the top, along with announcers Kurt Webster, Lee Allan, and Ralph Hawkins. Some of the top songs that week were:
1. All I Have To Do Is Dream, by the Everly Brothers.
2. Witch Doctor, by David Seville (later the voice of Alvin and the Chipmunks).
3. To Be Loved, by Jackie Wilson.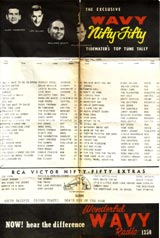 Many of these top 50 songs (deservedly) vanished into history, but a bit farther down the list we see a few that survived: Johnny B Goode by Chuck Berry, at #12, and Yakety Yak by the Coasters, at #44. Click on the list and see how many you can remember!

---
Home | History | Audio | Pictures | Tales | Links | Contact Us