Gather Round The Radio (sample issue)
In addition to our bimonthly journal, Radio Recall, members receive occasional (but quite regular) updates on OTR items of interest via email. We call these our Gather Round The Radio, or GRTR, messages. A sample is shown below.
Join MWOTRC to receive all issues of this email publication as well as our Radio Recall journal!
From: MARK ANDERSON
Sent: Sunday, October 07, 2007 5:29 PM
Subject: Gather `Round the Radio MWOTRC October News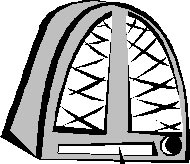 Gather `Round the Radio
October 2007
MWOTRC – Where Authors Abound
Your Next Assignment
This Friday, October 12, at 7:30 PM, the members and friends of MWOTRC will gather for our monthly meeting in the Social Hall of Trinity Episcopal Church, in Arlington VA, corner of Columbia Pike and South Wayne St. We are a welcoming and lively crowd; the programs are informative and entertaining. Come on over! It's a real nice time!
The Evening's Program: "Jack Webb In a Different Light"
Michael Hayde and Jack French, two eminent scholars of broadcast history will share the bill, detailing for us various aspects of Jack Webb's career and abilities beyond his "Dragnet" productions.
Jack will open the program with his "First Fifteen," which will feature a recording of a script in which Webb reads the parts for seven characters, each character with a distinctive accent. A master of accents? Yes indeed, and a revelation to those of us who know only the tone and rhythm of Webb's voice from "Dragnet" radio scripts.
Michael will follow with the main presentation, "Webb Before Friday," a look at Jack Webb's work in the entertainment industry before he got in on the launch of the successful and far-reaching idea of "Dragnet."
Michael's highly-acclaimed book "My Name's Friday: The Unauthorized but True Story of 'Dragnet' and the Films of Jack Webb" (Cumberland House, 2001, http://www.cumberlandhouse.com ) provides great insight into the man and his work. "My Name's Friday" was nominated for both an Edgar Award (Mystery Writers of America) and a Macavity Award (Mystery Readers International) in 2002.
Other Authors in the Club
Jack French, whose Agatha Award-winning book "Private Eyelashes" has been lauded in these pages, has informed me that yet another author has recently joined MWOTRC.
He is David S. Siegel of New York, well-known in old-time radio circles for diligent research, OTR script compilations and resource guides, and, this year, his book, "Radio and the Jews." David's archives of Golden Age of Radio materials are a tremendous resource. Welcome, David!
Also a long-time renewing member of MWOTRC is Jim Cox, prolific researcher and author whose articles have appeared in our own "Radio Recall," most recently, "Czar Wars," RR, Feb. 2007 and April 2007. He has nine books about old-time radio to his credit, several of which have been reviewed in "Radio Recall" by Club members. His latest book is "Radio Speakers." http://www.mcfarlandpub.com Jim was interviewed in RR in the December 2003 issue.
Martin Grams, Jr., another renewing member, is an author also. His "The Railroad Hour," (Bear Manor Media, 2007, co-author with Gerald Wilson) is featured in an article in the current October 2007 "Radio Recall." (p.8) Looks like a great book, chronicling a very popular show, which included excerpts of operettas. I would have loved that! http://www.bearmanormedia.com Martin is well-known also for organizing and hosting the Mid-Atlantic Nostalgia Convention in Aberdeen MD, two-years running now.
Jim Widner rounds out our current roll call of OTR authors who are also renewing members of MWOTRC. Jim runs a web-site http://www.otr.com He is the author of "Science Fiction on Radio." His latest article is in the current October 2007 issue of Radio Recall, (p.5), about the wonderful radio station out of Wheeling West Virginia, WWVA.
A Pattern Has Emerged
Our members want to be in-the-know; and our Club is a great resource in the OTR world. If you have not renewed, then you have perhaps missed Radio Recall and some of the great items that I have cited, such as October 2007, a blockbuster in and of itself. Plus, I dipped into the Club web-site http://www.mwotrc.com to use the index to past issues of RR for information I needed.
It's all part of the same weave – the web-site; the meetings; "Radio Recall," the CD/Audio Cassette Rental Library; the Print Rental Library; GRTR – all are benefits of MWOTRC membership. Available from: Mike Taylor, Membership, 9605 Glendower Ct., Laurel MD 20723.
Join the Club. Join the Chorus. Renew! And thank you if you have already!
All the Best,
Mark Anderson
GRTR