---
George Brewington, Joy Boys engineer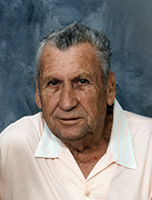 I'm the oldest son of the late George W. Brewington, a former WRC engineer. I go by Dave, my middle name, even though my first name is George. When I went to work with my dad, he was known as Big George and me, Little George. That's where I met both Ed & Willard.

I was on the Bozo Show several times, attended just about all the Christmas parties and even appeared on the Howdy Dowdy Show at the Sheraton. Enclosed is a picture of my dad (right).

My mom is going to go thru her other pictures and see if she can find any that include Ed & Willard. - Dave Brewington (Monmouth, Maine)



The Joy Boys engineers were often mentioned on the air, and portrayed in comedy bits. Here are some of the audio clips in our collection featuring Ed Walker as the voice of George Brewington. (Visit our Allclips page for more sound clips!)



Another former WRC engineer, Skip McCloskey, tells us about his co-worker:

George was one of a kind. When WRC went Top 40 he ran the board at night. He and Ron Starr were definitely a match. George would start a record from the playlist and then crank up one of his country records in cue. ("Cue" is a separate audio channel, not heard on the air, used by the engineer to prepare or "cue up" his next record.)

When I was The Greaseman's engineer, we would get hungry after the show and head out to a deli on Georgia Ave in Silver Spring. Ron would turn programming over to George who never seemed to mind as long as we brought him back a reuben sandwich.

My favorite story about George is whenever you saw him in the control room he would be wearing a pair of glasses that always had one of the arms broken off. They would sit cock-eyed on his face. After many months I finally asked him why doesn't he get his glasses fixed. He told me they weren't his. He found them one day in the control room and wore them everynight to do his show. He would then leave them on the console in case the real owner ever came looking for them. I just cracked up!

I can still hear his favorite saying in a low, almost southern drawl, "Awwwl-riight!"

Attached is a pic I took of George in the WRC edit room.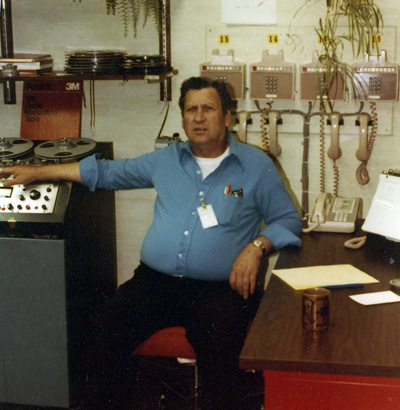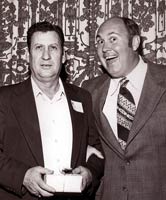 Dave sent some more pictures. This one is from about 1976, as George Brewington was receiving an award for his 25th anniversary at WRC.

Below, some photos from a WRC party circa 1997.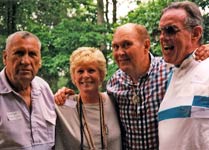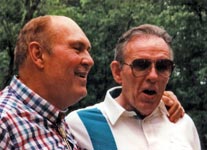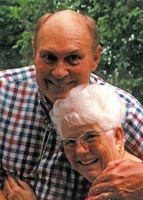 Thanks to Dave Brewington, and also to Skip at The Great 98 for his memories. Visit his web site to learn more about the history of WRC radio, the Greaseman, and other WRC personalities.
---
Home | History | Audio | Pictures | Tales | Links | Contact Us