---
WAMU CD project: Remember The Joy Boys, Volume One
You can now hear all four of the "Remember the Joy Boys" CDs on our YouTube channel. Enjoy!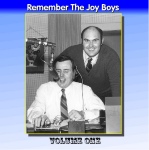 As many of you know, the Joy Boys met at American University and worked at the university radio station, WAMU. For many years, Ed Walker hosted a weekly show Sunday nights on WAMU, called the Big Broadcast.
WAMU is a listener-supported, public radio station, and receives much of its income through listener donations. Ed arranged for a Joy Boys "retrospective" CD to be given away during their pledge drive.
Ed and Willard recorded some commentary for this CD. It includes the history of the Joy Boys, background on many of their characters, and a lot of the funny ad-libs you've come to expect from these two. This CD is a must-have for any true Joy Boys fan!
Listen to an excerpt of the interview with Willard and Ed (MP3 file, 163K) as they tell you more about the Joy Boys theme. This interview is part of the special WAMU CD.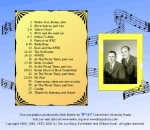 The vintage portions of the CD include: The Yellow Ghost; Arthur Codfish; Stella Bear; The Sodbuster; WWPU; Betty Crockett; Robin Hood of Rock Creek Park; Mr. Fixit; and a complete four-part story of As The Worm Turns.
Click on these links to read more about Volume Two, Volume Three or Volume Four of this collection.
---
Home | History | Audio | Pictures | Tales | Links | Contact Us