---
Willard Scott as Ronald McDonald
We now have the first three Ronald McDonald commercials in video format!
In the early 1960s, in addition to his radio work, Willard Scott played Bozo the Clown on a local children's TV show. Children love clowns and hamburgers, so it was only natural for Bozo the Clown to make an appearance when the first McDonald's hamburger stand opened in Alexandria, Virginia. Willard tells the story in his book, The Joy Of Living: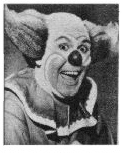 At the time, Bozo was the hottest children's show on the air. You could probably have sent Pluto the Dog or Dumbo the Elephant over and it would have been equally as successful. But I was there, and I was Bozo... There was something about the combination of hamburgers and Bozo that was irresistable to kids... That's why when Bozo went off the air a few years later, the local McDonald's people asked me to come up with a new character to take Bozo's place. So, I sat down and created Ronald McDonald.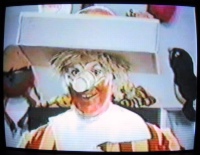 So Ronald McDonald was born, wearing a paper cup on his nose and a cardboard carry-out tray on his head. (Notice the milk shake, hamburger, and fries on top of the tray.)
McDonald's corporate web site credited Willard as being the first Ronald McDonald. Unfortunately, McDonald's chose another actor when they took the character into a nationwide ad campaign.

Willard started playing Ronald in 1963, while the Joy Boys were going strong on WRC. The first Ronald McDonald commercials were filmed that year, with Willard on camera, and Joy Boys partner Ed Walker doing the voice-over announcements. We have three of those commercials here, in audio clips with still frame images. Or, click here for video clips instead!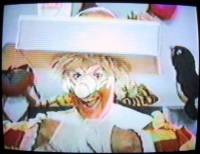 McDonald's spot #1 - meet the kids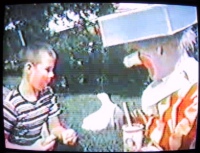 McDonald's spot #2 - never talk to strangers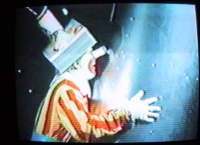 McDonald's spot #3 - to the moon, Ronald!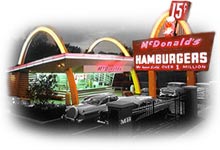 If 1963 doesn't take you back far enough, you can listen to this clip from the Joy Boys 1961 New Year's show (MP3, 275K) in which they read a live spot for McDonald's... now with eight restaurants in the Washington DC area!

Thanks to Kaptain Kidshow for their help with this story. Please visit their site for more information about Washington area kid's TV, including other stories about Willard Scott, Ronald McDonald, and Bozo the Clown.
---
Home | Audio | Video | History | Pictures | Tales | Links | Contact Us