---
Bryson Rash, WRC Newsman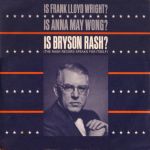 Bryson Rash delivered the local and national news during the Joy Boys show and other WRC programs. Try as they might, Ed and Willard seldom managed to crack him up (at least, not while the microphone was open).
So when Bryson was elected president of the National Press Club in 1963, of course the gloves came off. The Joy Boys, David Brinkley, Richard Harkness, and many other Washington voices produced this special album. It's a tribute, actually more of a "roast," of Bryson Rash. This album was contributed to our collection by Joan Baxter, and is now available on CD #JB123. The liner notes are reprinted below, and within them, you can click on links to hear samples of the CD.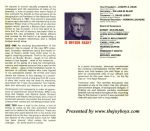 Is Frank Lloyd Wright?

Is Anna May Wong?

IS BRYSON RASH?

An expose in sound casually prepared by his colleagues with the assistance of many of his enemies, a host of people who never heard of him and both his friends on the occasion of his inauguration as President of the National Press Club, February 2, 1963. This record is expected to serve as a reminder to the membership of the National Press Club of the perils of an election system which permits a Bryson Rash administration to rise to power. It is in this spirit of reform that the veil of secrecy has been lifted to expose the new president, his fellow officers and cronies on the board in as penetrating a fashion as modern electronics and a limited budget would allow.
SIDE ONE: An exciting documentation of the meteoric rise to power of the new NPC president. Dramatic revelations spice this heady review of Rash's climb from child actor to tonight's inspiring pinnacle. Thill to his youthful charm as Buster Brown... laugh at his efforts toward a law degree... revel in his romances... wonder at his parlay of a bow tie, microphone, camera and expense account into a spot on the NPC ladder... gasp at the heretofore secret reflections of national leaders who have figured in his checkered career. All of this and more awaits the listener to his odyssey of a power-crazy kid who's come a long way from St. Louis. A story that would only be done by electronic journalism for it was too powerful, too improbable and obviously too libelous to be printed.
Participants (not necessarily in order of appearance or importance) David Brinkley, WRC's Joy Boys (Ed Walker and Willard Scott), Richard Harkness and Robert McCormick and a host of prominent persons (to protect the innocent and unwary their names are not being printed here).
SIDE TWO: Here a look to the future, a hint of things to come as the new president himself sets out to defend his fellow officers. These are the men who stand behind him in his duties and beside him at the bar, the group in whose hands the destiny of the National Press Club for 1963 has been placed. (And unless the system changes... for some years to come.)
Vice President - Joseph A. Dear
Secretary - William M. Blair
Treasurer - L. David Leroy
Financial Secretary - Vernon Louviere

Board of Governors
Kermit McFarland
Lewis Shollenberger
Clark R. Mollenhoff
Cabell Phillips
Warren Duffee
Windsor P. Booth
Michael Hudoba

In a panel discussion, obviously unrehearsed but certainly premeditated, former NPC presidents and club leaders join with Rash to present an uncensored view of our officers and governors for this year. Here it is... on the flip side of "The Rash Record."
Technical note: This spirited discussion was recorded at one of the club's free (for officers) pre-luncheon binges. A background obligato of tinkling ice and delicate, partially smothered belches can be heard throughout the recording. Due to the manner in which it was recorded this side will play best with a long needle.
---
Home | History | Audio | Pictures | Tales | Links | Contact Us