---
DC Comedians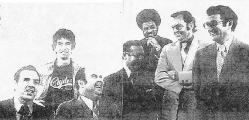 The following is a portion of an article which appeared in the Washington Post's Potomac Magazine, August 6 1972. Pictured to the right: Ed Walker, Ron Maranian, Willard Scott, Jackson Weaver, Petey Greene, Frank Harden and Mark Russell. Click on the photo for a larger view.
The Joy Boys. They would seem to be an unwieldy pair. A blind man who does all the time checks and reads commercials in Braille. A 240-pound former Ronald McDonald and former Bozo the Clown who puts on a toupee every night to become the area's most popular TV weatherman (famous for once bringing an 800 pound steer onto the set). Together, says their theme song, "We are the Joy Boys of radio, we chase electrons to and fro." Says their station manager, "They're a couple of nuts with a million gimmicks."
They are Ed Walker and Willard Scott, and they met almost 20 years ago at American University... Radio crazy for as long as they can remember, they've had a nighttime program on WRC during the past eight years. It was a favorite, one survey showed, with ministers and psychiatrists. Since January they've moved to a drive time slot, 2 to 6 p.m., trying, says Walker, "to hold onto the vestiges of old-time radio, to do what radio was famous for."
This means a lot of anything goes, Dada style, using puns, non sequiturs, a million voices and dozens of sound effects from whistles, bells, moos, laughs and sneezes to a fair-size garbage can filled with bricks, beer bottles and a WV hubcap that Scott kicks over at appropriate or inappropriate times.
Next to his right hand Walker has a one-foot-square door which he opens and closes loudly to announce the entrances and leavings of the dozen or so people who can be counted on to make highly iconoclastic appearances.
Any given day may see advice columnist Lucille O'Neill, "author, lecturer, and Potomac playgirl," poet laureate Randy Goon, airborne traffic reporter Chuck Hole, or race driver Pistons Preston, who "finished last in the Indianapolis 500. Finished about an hour ago. Knew I wasn't doing so well, so I stopped off at a Holiday Inn."
Most of their bits are slightly satiric turns on old-time radio, such as visits to country & western station WWPU or a performance by "the triple-tongued trumpet of Horace Heidt and his Musical Knights... you should see the way he cleans the seeds out of a watermelon."
Or perhaps a rapid fire visit to "the Boom Boom Room of the Hotel Alabaster in downtown New York, beneath the pounding feet of a million Manhattanites, where we hear the rippling rhythms of Raymond LaRoche and his Radio Revelers. Brought to you by Clancy's Monkey and Snake Farm, the No. 1 attraction on New Jersey State 88, just below Berrigan's Peach Farm, and featuring Godzilla the Gorilla in hot pants. This is your announcer, Hi Drawers."
"Nothing in the world lasts like corn," says Scott. "And that's what we do. Really honest to God cornball, the old medicine show."
Contributed by Jack Maier.
---
Home | History | Audio | Pictures | Tales | Links | Contact Us