---
WRC Studios at the Sheraton-Park Hotel
Before the current location at 4001 Nebraska Avenue, the WRC/NBC studios moved around a great deal. Prior locations included the Riggs Bank Building and the National Press Building. In 1938 WRC/NBC moved into the Trans-Lux Building, and remained there until the early '50s. Willard Scott began working for NBC as a "page" (errand boy) in the Trans-Lux Building.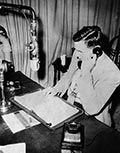 In 1952 WRC's studios moved to the Wardman Park Hotel, later known as the Sheraton-Park Hotel. This set of photos comes from that exotic basement location, sometime in the 1950s. The fact that Willard is missing from the pictures probably dates this to his time in the Navy, around 1957.
These first pictures show Ed Walker, seated at the announcer's table. The decor was stunning... a few curtains hung on the walls for sound absorption, and that's about it! Notice also the musical instruments along the walls. You never knew when a little extra music would be needed, to fill time until the NBC news at the top of the hour.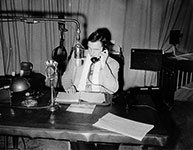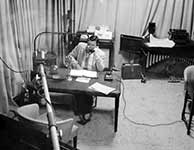 Maury Higdon relaxes while Ed Walker continues to work.



Here Ed works with Tippy Stringer. Tippy did various shows on WRC: cooking, homemaker how-to shows, and the weather. Here, it looks like she's using a caulking gun to wrap Christmas presents! Tippy also worked on WRC-TV, including the Afternoon show which featured Willard Scott, Jim Henson, and the Muppets.

Tippy was married to NBC newsman Chet Huntley, and later to William Conrad (TV detective Frank Cannon, and the radio voice of Gunsmoke's Matt Dillon).

For more information on early WRC studio facilities, please visit the web site of the Great 98.
---
Home | History | Audio | Pictures | Tales | Links | Contact Us