---
Johnny Holliday and the Joy Boys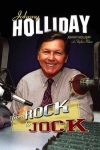 Johnny Holliday needs no introduction to his many fans in Washington DC and other major markets. In honor of his autobiography, we bring you some of the good times Johnny shared with Ed and Willard. Be sure to click on the audio clips we've included below.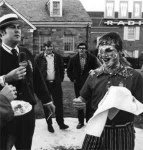 Johnny Holliday says I first met Eddie and Willard on a free-lance session, a big production commercial. I have an early picture of Willard tossing a cream pie in my face in the parking lot of WWDC. When I ask Eddie today what that was all about, he jokes, "It was because Willard didn't like you." I think it was a bet that I lost.

WRC AM eventually went all news and the Joy Boys were out of a job after a great run. I decided to phone in on their last day and invite them over to join me for a week on WWDC. The Joy Boys said, "How nice. We'll be there."

You can hear Johnny's telephone call here, in this bit from our CD #JB107.

Johnny invites the Joy Boys to WWDC (MP3 file, 544K)

Ed Walker recalls: Signing off on our last show at WRC, we could say "look for us on Monday on the Johnny Holliday show at WWDC." Lee Sherwood, the WRC programming director, hated that. That same day, Willard signed off the last episode of "As The Worm Turns" with a similar quip (taken from our CD #JB108). Click here and listen:

the Worm will return on WWDC! (MP3 file, 126K)

Johnny: During their week with me, we skipped most of the music and just laughed each day from 6 to 10 with voices and bits. Our station manager, Bill Sanders, gave us carte blanche. I think that initially Bill was trying to capitalize on the Joy Boys' popularity by letting them guest on my show, but he was so overwhelmed by the listener response we got that he said, "Hey. I've got to find a spot for these guys." Here's a clip from our CD #JB114, as Johnny introduces their first show together on WWDC:

WWDC, October 9 1972 (MP3 file, 525K)

Later that month, the Joy Boys were hired at WWDC and began a two-year run in the afternoon. Here are the first few words from that show:

WWDC, first Joy Boys show (MP3 file, 118K)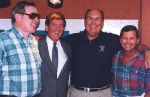 This photo shows Ed Walker, Tom Bresnahan, Willard Scott, and Johnny Holliday. (Tom was Johnny's general manager at station WMAL, where Johnny did morning sports reports for Harden and Weaver for twelve years.) Johnny Holliday and the Joy Boys reunited for a guest appearance on WMAL in 1990, and we have two clips from that show here. Both are from our CD #JB110.
Weather report and pollen count (MP3 file, 61K)
Market Inn spot (MP3 file, 118K)

---
Home | History | Audio | Pictures | Tales | Links | Contact Us