---
Will Heagy, Joy Boys sound effects man
Mike Berry tells us about his co-worker: Will started out as an engineer at WLBR in Lebanon, Pennsylvania. Ironic... I grew up in York, Pa. and sometimes listened to that station. After Will moved to Washington, he worked at WWDC. At that time WWDC was a union station. When WWDC went combo, Will and many of the other engineers came to NBC. (In radio stations where the engineers were unionized, the announcers were forbidden to operate the controls, and each radio show had to have one or more engineers. In "combo" stations, the announcer does it all.)
Will Heagy came to WRC from WWDC in 1970. Like all the WRC engineers he was assigned to different tasks throughout the day, but for several hours every night he worked magic as the Joy Boys sound effects man.
PTUI ! (WAV file, 13K)
That PTUI! sound was often played during the Old Stein restaurant commercials, but Will enjoyed using it as an "editorial comment" whenever he felt it appropriate.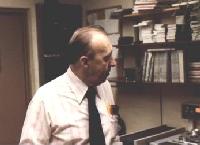 Will's workstation, with its console, turntables and tape cartridge machines, was in the studio with Ed and Willard. When the microphones were live, he had no way to warn them what to expect next. So if the Joy Boys seemed surprised by Will's inserts, that surprise was genuine.
Skip McCloskey tells us Will was the only engineer at NBC to wear a tie every single day. I used to tease him about it and told him I was going to buy him a tie that he wouldn't wear.

I think it was one Father's Day that I found a tie that instead of having a smiley face (which was popular then), the tie had a pattern of frown faces :-( and underneath each face it had a nasty word. Well of course he made me eat my words, as he would wear it every few months.
Actually it was a good looking tie (blue in color) and unless you looked at it closely the pattern just sort of blended together into a nice moire'. I remember he got a compliment on it from Newstalk 98's night-time psychic, Sally Reigler. "Oh Will, that's a nice tie! Let me see it up close...... oh my!" Of course... if she were a real psychic she would have known what the tie had on it!
More than once, when Willard or Ed promoted the Betty Groebli show, Will interrupted with
Sufferin' Succotash! Here she comes again! (MP3 file, 9K)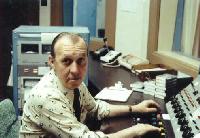 Will's coffee was almost as famous as his sound-effects work. It was often mentioned on the show, including this clip (MP3, 48K) from the last WRC show. (This is from our CD #JB107.) Notice the "oh boy" and "applause" effects. Will kept those, and dozens more, on tape cartridges at his fingertips. With so many "carts," and only a few cart machines to play them in, Will was constantly shuffling carts in and out of his machines. One trick was not to drop those carts while the microphones were live.
According to Mike, The equipment on the studio 1 sound effects "truck" was: a pair of 70D turntables, an RT-7 cart machine, an OP-6 remote amp, and an NBC-built switch panel. Mike and Will worked together, adding sound effects and music to make the shows even wilder. I had my own carts and threw in a lot of stuff. Also, we played a lot of stuff directly from the turntables. The turntables all had faders mounted on them at a location that made it easy to hold the record and then release it and whip open the fader simultaneously. It sounds harder than it really was. I had three turntables, so I often had some wild track ready to go that I would drop in when appropriate.
Will Heagy remained at WRC through the end of the Joy Boys show, then engineered Willard Scott's Top 40 show for some time. Click here or on the picture above for a larger photo of Will Heagy.
Thanks to Mike and Skip at The Great 98 for their recollections, and for these pictures of Will Heagy.
---
Home | History | Audio | Pictures | Tales | Links | Contact Us