---
Have A Happy Day
Remember the Coke commercial that said "I'd like to teach the world to sing?" It became so popular that two different groups recorded it as a full-length pop song, and it became a hit in Britain and the U.S.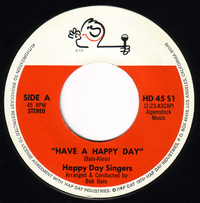 While Coke was teaching us to sing in the early 1970s, something similar was happening with a radio jingle. WRC started using a new jingle package that told everyone to "have a happy day." The tune caught on, and before long WRC was getting requests for that little song. A full-length (2 minutes plus) version was recorded, and pressed onto a 45 RPM record (shown to your right).
WRC gave away the records as promotional items, and also to encourage donations to the Doll House charity drive. Click here (MP3 file, 240K) to listen to a Doll House PSA (public service announcement) and one of the Happy Day jingles.
The full-length song was smooth and mellow, and perhaps just what we all needed in the turbulent early '70s. Click here (MP3 file, 573K) and see if you don't agree.
Both of these clips are on our CD #JB109, which features the stereo version of the full-length Happy Day song.

WRC veteran Skip McCloskey contributed this Happy Day button, showing a bit of age. And we're certain that this little cartoon showed up on some billboards and bumper stickers too.
So always remember that a good marketing tool should never be abandoned until everyone is completely saturated with it!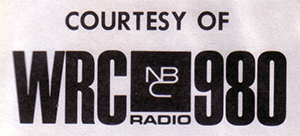 ---
Home | History | Audio | Pictures | Tales | Links | Contact Us