---
AFTRA Advertisement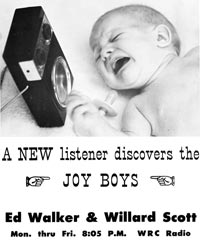 We received a letter from Beverly McCollum earlier this year, and realized it was describing a bit of Joy Boys history depicted in the advertisement shown to your right. That ad appeared in the 1963 directory of talent published by the announcer's union, the American Federation of Television and Radio Actors (AFTRA).
Dear Willard and Ed,
Our younger son, Jerry, posed for your AFTRA ad when a few weeks old; he turned 42 this year. Jerry was born at Columbia Hospital on Easter Sunday, April 14, 1963 - and Willard announced his arrival on The Joy Boys the next day. Then he told my husband, John, about the ad he wanted and asked if he would take a picture of the baby listening to a radio. Jerry was a good baby, so we had to irritate him a lot before we could get the shot. I have the picture on the wall of my office under one of Willard, Mary and the girls and one of Willard and me taken in Wichita several years ago.
Willard and Ed are old friends of ours. My husband, John McCollom, went to WRC in the Trans-Lux in 1943 as a radio engineer. He then became a television engineer when they moved to the Wardman Park. He became a Technical Director and the Field Supervisor - was in charge of presidential broadcasts and all field programs. He and Robert Montgomery spent a lot of time together deciding the exact height of the camera lens from the floor so that light would not reflect from Ike's bald head.
In 1956 I was hired by Julian Goodman, then chief of NBC News Washington, to do research for the scripts for the first Huntley-Brinkley shows at the conventions in Chicago and San Francisco. I did research at the Library of Congress and then helped write the scripts. I also did research for David Brinkley, obtaining tidbits of this and that for his ad libs. I later went to Traffic for WRC-TV, where I worked with Mary Dwyer, who later became Mrs. Willard Scott; then Mary and I moved to programming/ production. I was a redhead with good skin, so in the early days of color cameras that took forever to warm up, I would sit in the studio so the guys could focus the cameras on me until they were ready to go.
I met John when working on field shows for Wide Wide World. His wife was critically ill with cancer, and he sometimes had to bring his 11-year-old son to work with him. I looked after the boy, Jack - and we became good friends. After his mother died, when John had to go to Pittsburgh or elsewhere to do ball games, I stayed with Jack - who eventually played matchmaker, and John and I were married in 1959. At the time our engagement was announced, three other WRC couples made the same announcement: Jim Henson and Jane Nebel; Tippy Stringer and Chet Huntley; and Willard Scott and Mary Dwyer. Willard and Mary were buying a home overlooking the Potomac, which had what was once a formal garden. He decided he would have a going-away party for John and me just before our marriage (we were leaving WRC and going to Ft. Lauderdale). With sack lunches from the commissary the whole department, plus my parents, had a picnic in the garden. Then on the day of my wedding I was covered with chigger bites! I hoped I wouldn't have to scratch during the ceremony in the National Cathedral! John worked for RCA for a few years; we lived in Denver and in New Jersey. Then he was asked to return to WRC-TV as night manager in 1962. We moved back to suburban Maryland. My sons still think of Willard as Santa Claus because when they were little boys at the WRC Christmas parties, Santa Willard handed them their presents.
John left WRC and in 1968 we moved to a 200-year-old stone house in Sharpsburg, MD. WHAG-TV in Hagerstown had just gone on the air, and John and I both went to work there - he as Sales Manager, I as Traffic Manager. We also wrote and produced commercials for the clients he sold to. Both the boys and I appeared in many of them. It was fun!
John was 20 years older than I, so he retired in 1975. Since we had adolescent sons, we moved back to my hometown, Medicine Lodge, KS. John died in 1986.
I used to talk to Ed frequently by phone - and he would keep me up to date with what was going on - who had died, etc. I saw Willard in Wichita several years ago when he was doing one of those "feel good" programs on a bill with Robert Schuler, Olga Corbett, and others. We had only a short time to talk, but made good use of the moment.
I was so saddened when I heard about Mary's death. She was a dear friend. I always felt that I had helped get them together. We all knew that Willard really thought a lot of Mary, but as far as I know he had never asked her out, Mary had a beloved dog; she had gone home in tears one day because her dog had died. Willard came in that afternoon asking, "Where's Mary?" I told him what had happened and how upset she was. Then I suggested that he go talk to her and console her. He did - and things progressed from there.
As I told Willard, my older son Bob lives in Old Town Alexandria above the Cunningham Funeral Home on Cameron Street, since he is a funeral director for Mountcastles. After he got out of college and mortuary school, he decided he wanted to move back East. He loves it there. He has two sons.
My son Jerry, the Joy Boys fan, is a computer nerd. Right out of college he went to work for HP, and is now a software engineer with Agilent Technologies in Ft. Collins, Colorado. He also teaches exercise classes in his spare time. He has a son and a daughter.
I have worked at the hospital here in Medicine Lodge, Kansas for 25 years as Director of EMS and medical transcriptionist - a long way from TV. However, I have also written a book about Medicine Lodge in the 1880s (my grandfather came here to be a cowboy in 1874); have done a video about the Treaty of Medicine Lodge signed with the Plains Indians here in 1867, which we celebrate every three years with a spectacular pageant - for which I wrote the latest script. I also do a weekly column for a local paper - The Gyp Hill Premiere. I keep busy - and weekly I do the crossword puzzle in New York magazine in ink in one hour as my check on whether Alzheimer's has caught up with me. So far, so good.
I did not intend to write a book in response to your e-mail, but I am so pleased that you have the Joy Boys picture - it has brought back a lot of memories, as you undoubtedly have noticed. I love the web page. Thank you!
Bev McCollom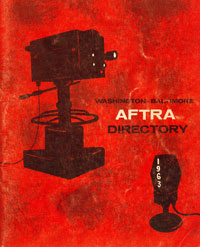 Thanks to Skip McCloskey at the Great 98 for scanning the AFTRA ad and booklet cover.
Also thanks to Kaptain Kidshow where we first noticed the AFTRA advertisement.

---
Home | History | Audio | Pictures | Tales | Links | Contact Us