---
AFRTS, the Armed Forces Radio and Television Service
In the late 1950s and early '60s, Joy Boys shows were recorded at WRC radio and delivered to the United States Armed Forces Radio and Television Service (AFRTS). The tapes were edited down to 25-minute shows, which were broadcast to entertain our troops and government workers overseas.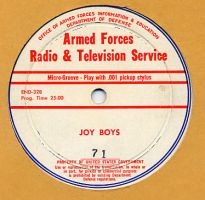 The programs were delivered overseas on 12-inch, or perhaps 16-inch, ET (electrical transcription) discs. You can see one of the disc labels at right (click for a larger image).
In the words of Dick Cassin, who served in this department:
AFRTS was formed during WWII to bring entertainment from home to "the boys overseas," via radio (often short-wave). I spent most of my adult life in the AFRTS system, both as an announcer overseas and later as a faculty member at the Defense Information School where military broadcasters and journalists are trained.
My first contact with the Joy Boys was on the Armed Forces Radio and Television Service. Being on AFRTS gave the Joy Boys worldwide exposure they never would have experienced in the DC market alone. Servicemen and women from all parts of the country became aware of the Joy Boys. I know I am just one of many armed forces members who have a great appreciation for the Joy Boys.
To the best of my knowledge, the packaged (30-minute) Joy Boy Shows were aired on the worldwide Armed Forces Radio and Television Service in the late-1950s.
When I was with the network in Japan in the early 60s, we were using cuts taken from the longer shows. The various skits would be used as comedy inserts to other music variety shows being done locally by our own air personalities. You might call it a "Best of the Joy Boys" situation. I would use Joy Boys inserts on my morning DJ show, appropriately programmed between the musical selections. Certain days would be Joy Boys days and our listeners would look forward to them. On other days of the week I might use cuts from Bob Newhart albums, Stan Freberg, etc.
Our network station in Tokyo also included Joy Boys material in a popular afternoon show on the weekends called "Tokyo Calling." News, interviews, music, comedy (Joy Boys, etc.).
We were hoping that Dick might have saved some of those old 16" ET discs: I'd like to say I had copies of the Joy Boys work as it was transcribed by the AFRTS. However, in my time with the network overseas (in Japan), it was an Article 15 and could even be a courts-martial offense to make copies of anything in our transcription (music) library. It just wasn't done. I have some old airchecks of my morning DJ shows, but that's about all I came back with.
On AFRTS shows, the commercials were removed. It was probably thought they would have been of interest only locally. Unfortunately that means many of the Joy Boys' great commercial ad-libs have been lost.
Much of the surviving Joy Boys material is from AFRTS shows. Ed Walker has discovered that some of these shows are catalogued in the Library of Congress, and he's attempting to get copies of them. If successful, these shows will be added to our archives.
The AFRTS still exists and serves the same mission. (Of course, they don't use 16-inch ET's anymore. We think.)
The network pretty much remains the same, with 24-hours of music, news and sports, with our own air personalities, and broadcasting to the service men and women around the world. Right now, you could turn on a radio in Japan, Korea, Philippines, Germany, Spain, Italy, just to mention a few, and hear English-speaking news, local weather, sports, music, all courtesy of the local AFRTS outlet.
Today, television dominates the AFRTS programming schedule overseas. Virtually all of the top shows from the major TV networks are seen overseas on the stations of the Armed Forces Radio and Television Service. --Dick Cassin
The AFRTS is now called the American Forces Network. You can read more at their web site, https://myafn.dodmedia.osd.mil/ or their Wikipedia entry.
---
Home | History | Audio | Pictures | Tales | Links | Contact Us