Lending Library
The Lending Library consists of CD-ROMs which may be borrowed by members for one dollar per CD. A catalog of holdings is furnished to all members upon request, with a list of additions furnished every year.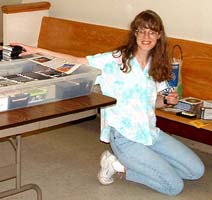 MWOTRC also has over 200 CDs to offer on a rental basis. Rental fees are the same as that of the cassettes.

The Printed Library consists of over 200 books, periodicals, and scripts which may be borrowed for one month for two dollars plus postage. Members may choose first-class or book rate. A catalog is furnished to new members.
To receive a copy of the catalog, join our club and email the Coordinating Librarian, Rebecca Jones, at audio@mwotrc.com.
For information on our Printed Library, email Mark and Marsha Bush at library@mwotrc.com.
---
Audio Cassettes for Sale!
From our Librarian:
"At the August meeting the club members present voted to disband the club's cassette library due to rental inactivity over the past few years. In an effort to keep as much as we can from hitting the landfill I would like to offer the members the opportunity to take entire series of their choosing on a first come first served basis. For the price of shipping I will mail you all the episodes we have of your favorite program. Please contact me at audio@mwotrc.com."